Who has an AnkleAid?
From professional sports teams, to top trainers and physical therapists, to weekend warriors across the country, more and more people are discovering the magical, some would say mystical healing power of AnkleAid.

Check out who has the AnkleAid (all the states in BLUE below indicate states that have ANKLEAID).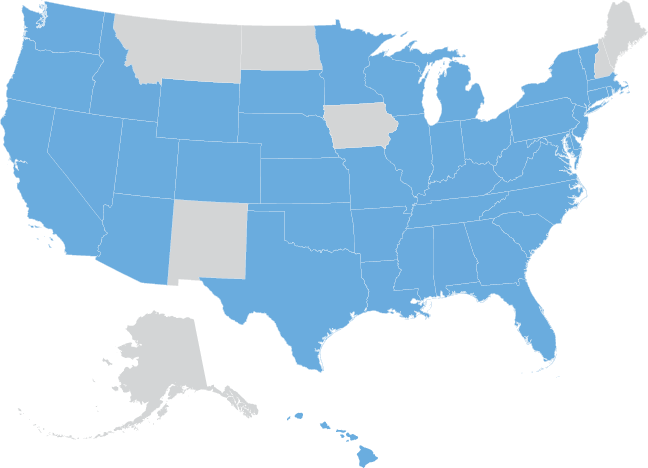 South Dakota
Bookings, SD
Pierre, SD
Sioux Falls, SD
Washington
Brookfield, WA
Pasco, WA
Renton, WA

Snohomish, WA

Yakima, WA
Kentucky
Georgetown, KY
Lebanon, KY
Prestonburg, KY
Minnesota
Minneapolis, MN
Willmar, MN
West Virginia
Cross Lakes, WV
Hurricane, WV
Jane Lew, WV
Newell, WV
Shenandoah Junction, WV
Georgia
Conyers, GA
Cummings, GA
Duluth, GA
Marietta, GA
Maysville, GA
Smyrna, GA
Louisiana
Gonzales, LA
New Orleans, LA
Delaware
Bridgeville, DE
Clayton, DE
Lincoln, DE
Arizona
Gilbert, AZ
Phoenix, AZ
Rio Rico, AZ
Rogers, AZ
Scottsdale, AZ
Tuscon, AZ
New Jersey
Basking Ridge, NJ
Belle Meade, NJ
Bloomfield, NJ
Freehold, NJ
Hillsborough, NJ
Montclair, NJ
Pine Brook, NJ
Rutgers University, NJ
Springfield Gardens, NJ
Wildwood, NJ
North Carolina
Burlington, NC
Charlotte, NC
Chapel Hill, NC
Cornelius, NC
Hickory, NC
Kernersville, NC
Raleigh, NC
Rolesville, NC
Winston Salem, NC
Maryland
The University of Maryland
Annapolis, MD
Baltimore, MD
Bethesda, MD
Ellicot City, MD
Rockville, MD
Timonium, MD
Virginia
The University of Virginia
Alexandria, VA
Arlington, VA
Ashburn, VA
Falls Church, VA
Leesburg, VA
Oakton, VA
Roanoke, VA
South Hill, VA
Virginia Beach, VA
Williamsburg, VA
Utah
Brigham Young University, Provo, UT
Salt Lake City, UT
Syracuse, UT
Ohio
Westfall High School in Williamsport, OH
Ashville, OH
Avon, OH
Columbus, OH
Hartville, OH
Portsmouth, OH
Rockbridge, OH
Wadsworth, OH
Indiana
Carmel, IN

Indianapolis, IN - Park Center School

Munster, IN
South Carolina
University of South Carolina

Bluffton, SC

Columbia, SC
Missouri
Kansas City Chiefs
High Ridge, MO
Kansas City, MO
Lynn Creek, MO
Connecticut
UNIVERSITIES/SCHOOLS:
Central Connecticut State University
Quinnipiac University
Kevin Ollie - UCONN Men's Head Basketball Coach
UCONN
University of Hartford
Bridgeport University
East Haven H.S.
The Taft School
Wesleyan University
Yale University
Hamden Hall
Amity High School

Derby High School

Cheshire High School

East Catholic High School

Ellington High School

Manchester High School

New Britain High School

Hopkins School

Cheshire Academy

Middletown High School

Southington High School

Choate
DIRECT SALES TO:
Bethel, CT

Cheshire, CT

Coventry, CT

Collinsville, CT
Ellington, CT
Hartford, CT
Manchester, CT
Meriden, CT
Milford, CT
New Haven, CT
North Branford, CT
Simsbury, CT
South Windsor, CT
Stamford, CT
Storrs, CT
Vernon, CT
Westport, CT
West Haven, CT
PHYSICAL THERAPY/OTHER:
Select Physical Therapy - 13 locations

Integrated Rehab - 5 CT locations

The Authentic Athlete - Fairfield CT

The Moore PT Group (3 locations)

Javier Colon
Tebucky Jones
Moore PT Group
ProHealth Physicians
Southington PT Center
Wisconsin
Brookfield, WI (Freedom Physical Therapy Services)
Green Bay Packers
Madison, WI
Monticello, WI
Waupaca, WI
Vermont
Danville, VT
St. Johnsbury Academy in St. Johnsbury, VT
Texas
Houston Dynamo
Beaumont, TX
Cedar Park, TX
Crowley, TX
Dallas, TX
Fairview, TX
Fort Worth, TX
Frisco, TX
Houston, TX
Laredo, TX
Longview, TX
Lubbock, TX
Pflugerville, TX
Richardson, TX
Royse City, TX
Sugar Land, TX
Tyler, TX
Waco, TX
Tennessee
University of Tennessee
Chatanooga, TN
Smyrna, TN
Pennsylvania
Bucknell University, PA
Greenville, PA
Kennett Square, PA
Lafayette College, PA
Philadelphia Flyers
Philadelphia, PA
Pittsburgh, PA
Wilkes Barre, PA
Oregon
Beaverton, OR
Medford, OR
Portland, OR
New York
Binghamton, NY
Brooklyn, NY
Canisteo, NY
Copiague, NY
Cutchogue, NY
Dobbs Ferry, NY
Millbrook, NY
Nanuet, NY
New York, NY
Niagara Falls, NY
Oceanside, NY
Syracuse, NY
Westhampton, NY
Yaphank, NY
Michigan
Brighton, MI - Joint Healing (Distributor)
Portage, MI
Ray, MI
Traverse City, MI
University of Michigan
Massachusetts
Bobby Orr
Boston Bruins
Boston Celtics
Boston, MA
Collins Sports Medicine
Easton, MA
Natick, MA
Raynham, MA
Reading, MA
Sheffield, MA
South Deerfield, MA
The College of the Holy Cross, MA

UMASS at Lowell, MA

The College of the Holy Cross, MA
Kansas
Cramer Sports Medicine
Kansas City, KS
Manhattan, KS
Illinois
Algonquin, IL
Aurora, IL
Chicago, IL
Davis Junction, IL
Deerfield, IL
Des Plains, IL
Elmhurst, IL
Park Ridge, IL
Pecatonica, IL
Quincy, IL
Florida
SPORTS
Anne Schleper, US Women's Hockey Team
Cailyn Williams, Pro Tennis Player
John Isner, Pro Tennis Player
Miami Marlins
Tampa Bay Lightning
OTHER
Boca Raton, FL
Boynton Beach, FL
Coral Springs, FL
Davenport, FL
Dunedin, FL
Fort Pierce, FL
Lady Lake, FL
Lakeland, FL
Lithia, FL
Miami, FL
Ocala, FL
Orlando, FL
Palm Beach Gardens, FL
Sarasota, FL
Sunrise, FL
Tallahassee, FL
Tampa, FL
West Palm Beach, FL
Colorado
Denver Broncos
Colorado Avalanche
Colorado University
Aspen, CO
Boulder, CO
Denver, CO
Erie, CO
Littleton, CO
California
Bakersfield, CA

Brawley, CA

Corona, CA

Danville, CA

Dublin, CA

Emeryville, CA

Fontana, CA

Fountain Valley, CA

Fullerton, CA

Haywood, CA

Larkspur, CA

Los Angeles, CA

Los Altos, CA

Menlo Park, CA

Milpitas, CA

Oakland, CA

Orinda, CA

Petaluma, CA

Prunedale, CA
Riverside, CA
San Bruno, CA
San Clemente, CA
San Diego, CA
San Francisco, CA
Santa Clarita, CA
Santa Monica, CA
Stanford University
Van Nuys, CA
Vallejo, CA
Victorville, CA
Visalia, CA
West Hills, CA
Walnut Creek, CA