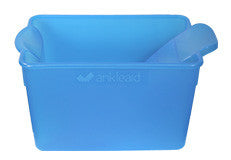 AnkleAid - FREE SHIPPING!
$49.99
AnkleAid is a patented device designed specifically for ankle and foot submersion therapy. Heals ankles and feet comfortably with a special design that keeps your toes out of the water. It also has a slight stretch component to promote dorsiflexion during treatment. 
AnkleAid is a great purchase for any active household, as having an AnkleAid in the house helps with routine ankle maintenance, or for therapy as soon as an injury occurs. 
More about the AnkleAid:
AnkleAid has been proven by multiple Orthopedic and Physical Therapy studies to be one of the best ways to treat foot, ankle, achilles and elbow injuries as well as plantar fasciitis. It can also treat a variety of other injuries!

We have invented and patented the first water submersion device designed specifically for ankle and foot therapy. It allows for your toes to stay out of the cold water while icing your foot and ankle. This also promotes a dorsiflexion stretch which is great for achilles injuries and plantar fasciitis as well.
AnkleAid is used on a daily basis by multiple NFL teams, NHL teams and NCAA schools. It is also used in numerous physical therapy centers as well as by a wide variety of people across the U.S.
Our multi-functional AnkleAid can be used for both cryo/cold and thermal therapy. We have plenty of videos and instructions on how you can effectively use our product to treat any foot or ankle injury.
The Ankleaid is 100% HSA Compliant. Use your HSA dollars to purchase this product, even on Amazon! Ankleaid is also a patented product approved by USPTO as of November, 2014.
AnkleAid is currently being used by post-op surgery patients, seniors, weekend warrior rec athletes, high schools, colleges, sports teams, PT centers, and folks across the U.S., and is crafted using an ultra-durable hard plastic to withstand both hot and cold temperatures, and to prevent cracks and breakage when being stored. With normal use, you should never have to buy another AnkleAid in your lifetime*.
If you're not happy with the AnkleAid, we will give you your money back guaranteed.  
AnkleAid United States Patent No. 9,022,957 and D719,271 S
* We offer a limited lifetime warranty on AnkleAid in the United States.  Purchase receipt is required.  The warranty is void if the damage is due to misuse or abuse.