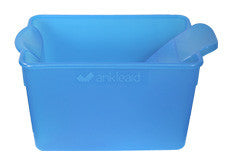 AnkleAid Contrast Therapy Combo Pack (FREE Shipping!)
$99.99
We now offer 2 AnkleAids in our contrast therapy (i.e. hot and cold therapy) combo pack!   
Contrast Therapy is a form of hydrotherapy. It is also called hot/cold immersion therapy. It is the use of hot and cold water to help decrease pain and increase circulation in area of injury and restricted blood flow. The goals for a Contrast Bath include:
Decreasing pain
Decreasing swelling
Decreasing/controlling inflammation
Improving mobility
Improve muscle recovery after exercising
AnkleAid is HSA Compliant.
AnkleAid United States Patent No. 9,022,957 and D719,271 S
* We offer a limited lifetime warranty on AnkleAid in the United States.  Purchase receipt is required.  The warranty is void if the damage is due to misuse or abuse.